"Storage has the capacity to change almost all the rules about everything when it comes to energy," said Governor Charlie Baker in his keynote address on April 18th, to the Energy Storage Association's Annual Convention, held this year in Boston, Massachusetts.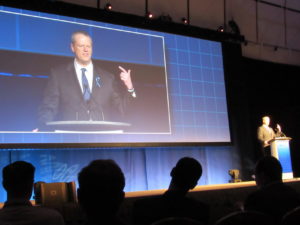 "The opportunities associated with this particular industry are extraordinary," he said, leading to his further comments about how we think about energy generally.
"We have three big objectives, one of which is to reduce and stabilize the cost of energy for consumers, secondly to continue our commitment to a clean energy future and to meeting our global warming solutions act and continuing to reduce our carbon footprint, and ensuring we have a safe, reliant energy infrastructure."
"Storage," he said, "ultimately has a role to play in making all of those things happen. Storage has tremendous capacity to serve as an enabler, to take the combo platter of hydro, wind and solar, way beyond what we may have considered possible."
"That's why," he explained, "last year when we were thinking about doing a $10 million dollar Energy Storage Initiative, when we put out early requests for information, the feedback was so positive that we decided to make it a $20 million dollar initiative."
"Programs such as the Energy Storage Initiative Advancing Commonwealth Energy Storage (ESI ACES) are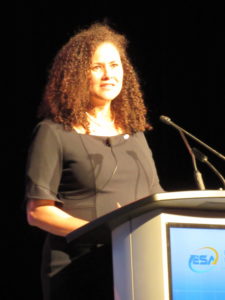 examples of how Baker's administration values storage," said Kelly Speakes – Backman, CEO of The Energy Storage Association.
"We received somewhere between 50 and 75 bids," Baker revealed, and "we ended up signing up about 25 of them, all for the most part private sector based," adding "our 20 million went alongside about 35 million dollars of other people's money, which is," from his point of view, "the right way for the Massachusetts government to be investing in this type of thing."
"Those initiatives," he said, "will help us move the knowledge base down the field in terms of what's possible and how storage can be used as a strategic asset in this continuing move to a clean energy future."
"Programs and policies such as these help to advance our industry towards the goal of 35 gigawatts by 2025," said Speakes – Backman.