Annette Verschuren is a businesswoman whose impact will influence the energy landscape of Canada and beyond.
The former CEO of Home Depot Canada turned energy storage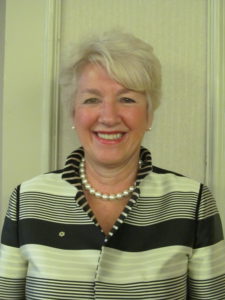 entrepreneur, sat at the Trudeau /Trump table in the White House yesterday, part of the team launching the joint Canada / US initiative advancing women entrepreneurs in business.
Why was she there? Her experience as CEO of Home Depot Canada has given her insight into US/Canada trade and how it benefits both countries, a key message advanced by Trudeau's team.
She is also Co- Chair of the Canadian Smart Prosperity Initiative, she told me last March at the #Globe2016 Leadership Summit in Vancouver. The prosperity initiative was launched in 2016, by a group of Canadian leaders from business, think-tanks, labour, Indigenous Peoples, youth and NGO communities. Their purpose: to accelerate Canada's transition to a stronger, cleaner economy.
To advance her vision, Verschuren founded NRStor Inc., a company that offers energy storage solutions.
Energy storage is a game changer that will enable increasing levels of intermittent renewables onto electricity grids, if it can be developed economically, at scale.
NRstor Inc., according to their website, is a privately held energy storage development company. In December 2012, NRStor was selected by Ontario's Independent Electricity System Operator, through a competitive RFP process to provide 2 megawatts of frequency regulation service to Ontario's grid using Temporal Power's high performance flywheel energy storage technology. Flywheels can store energy by being sped up, and inject energy onto the grid as they slow down. Providing 2 megawatts of balancing services to Ontario's Independent Electricity System Operator since 2014, it is the first commercial flywheel energy storage project in Canada according to the NRStor website.
Large scale compressed air storage solutions are also under development by NRStor Inc..
NRstor Inc. imports Tesla Powerwall storage systems, and distributes them across Canada. This is a joint venture with Opus One Solutions Energy Corp.
Elon Musk, CEO of Tesla attended a recent meeting with President Trump, along with other successful American CEOs. Perhaps that's another reason Verschuren was part of yesterday's launch team.
Annette Verschuren whose early years as a Cape Breton farm girl shaped who she is today, a woman on a mission, focused on accelerating the development and construction of industry-leading energy storage technologies.