Nova Scotia Power and parent company Emera, together with project partners, and electric vehicle owners, gathered around the new Elmsdale fast charger Monday, as Karen Hutt, President and CEO of Nova Scotia Power, announced the rollout of Nova Scotia's 12 electric vehicle fast chargers positioned just off 100 series highways.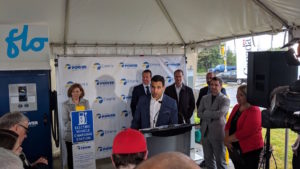 Federal funding of $600,000 from Natural Resources Canada's Electric Vehicle and Alternative Fuel Infrastructure Deployment Initiative gave the charging network a boost. The Honorable Scott Brison, MP for Kings-Hants and President of the Treasury Board of Canada attended the announcement on behalf of Natural Resources Minister Jim Carr.
Emera Inc., Nova Scotia Power's parent company, is funding NSP's share of the fast EV charging network, which the company says aligns with similar initiatives being implemented across their operating companies.
"This network is so significant because it represents exactly what we're focused on as a company; customer value, community partnership, and powerful innovation," said Hutt, addressing the crowd.
"The energy industry, and frankly the entire world is changing so quickly, and it's our job to keep up with that, and we need to make sure we're ready for the future. We also need to make sure we're making investments that will sustain our province, for generations to come," said Hutt. "So how do we get there? We find the right opportunities and the right partnerships that will deliver value to our customers … and we turn to our communities … and we make it happen together."
"Electrification of the transportation sector is under way. Globally governments and utilities and automakers are looking at electric vehicles for materially decarbonizing the economy and reducing greenhouse gasses. At Nova Scotia Power we take our role in this decarbonization effort very seriously," said Hutt.
Stephen Thomas, energy campaigner with the Ecology Action Centre in Halifax told the Chronicle Herald:
"I think it's fair to say we don't always agree with the way things are going in Nova Scotia, but this is a great move and a great day," said Thomas at the launch event.
"Even in Nova Scotia's grid, at about 55% coal now, it's better in terms of climate emissions to use an electric vehicle than to use a traditional gasoline or diesel vehicle. They're that efficient," said Thomas.
The Nova Scotia Department of Energy supports the development of a network of fast chargers, stating the electrification of transportation is central to both provincial and federal greenhouse gas emission reduction strategies.
The 12 EV level 3 (fast) chargers are in convenient locations, approximately 65 kilometres apart, from one at the Yarmouth Shell to the North Sydney Sobeys, In Digby, Liverpool, and Elmsdale they are on Sobeys land, near Sobeys stores. In Coldbrook, Shelburn and Stellerton they are by Sobeys Fast Fuel Stations.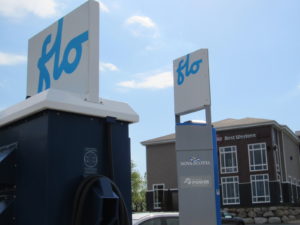 In Bridgewater the fast charger is in the Best Western parking lot closest to the area mall. In Debert the high speed charger can be found at the Masstown Market, and in Monastery it's at the Petrocan. It's by the Lynwood Inn in Baddeck.
Paired alongside the fast chargers are 12 level 2 chargers, funded by the Nova Scotia government who stepped up with $120,000 for these ones. They will provide a charging solution for plug in hybrid vehicles that are unable to use the faster level 3 chargers.
Paul McLeod, VP of Operations, Sobeys Atlantic, the site partner for the majority of locations said,
"Sobeys is excited to be collaborating with Nova Scotia Power to bring this network of charging stations to our customers and communities throughout Nova Scotia…We are always looking for new ways to integrate sustainability into all parts of our business."
"Flo is a network that will operate this network," said Louis Tremblay, President and CEO of AddEnergie and Flo. Our company has been dedicated to the electro-mobiliy for the last decade. As Canada's largest EV charging network, Flo operates thousands of operating station such as these across the country."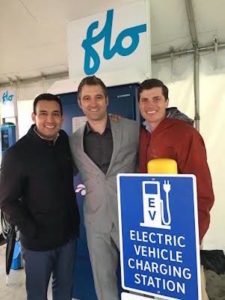 "We are dedicated to offering to the EV driver, the best experience in all the EV ecosystem, which is at home, at work, and on the go," said Tremblay. "We achieve this by providing reliable, simple, and efficient charging solution to our partner, like Nova Scotia Power."
"While EV adoption is still in it's early stage in Nova Scotia, a reliable and extensive charging network will encourage more people to switch to plug in electric vehicle," said Tremblay. "We've seen in my region that the availability of charging infrastructure is a key factor in driving EV adoption."
"We know that Nova Scotians are interested in buying electric vehicles, and we know what's holding them back is the lack of infrastructure," said Hutt. "So today is about removing that barrier and pushing forward towards a sustainable future for all Nova Scotians."
Lucas Swan, who drives a Tesla, Tweeted: "It's a great day for EV's in Nova Scotia."
Hutt said," this announcement is significant because NSP is focused on consumer value and community partnerships."
But, if you're a consumer in Nova Scotia, trying to buy an electric vehicle isn't easy; supply is limited.
When asked about their current inventory of electric vehicles, a spokesperson from a Nova Scotian Nissan dealership said, "they're almost impossible to get. The government here doesn't offer the rebate, like they do in other provinces, so Nissan isn't sending us the cars."
"We had one 2018 Nissan Leaf. It sold. Generally speaking what they send us depends on what we sold the year before," she said.
Three of the five other dealerships surveyed echoed similar responses, specifically with regard to getting new electric vehicles into Nova Scotia while competing with provinces who offer large incentives.
"It's a major barrier, having inventory, cause if your can't see it, and you can't drive it, why would you want tobuy it?" said Bernardin in an interview.
"There needs to be an outreach campaign to educate the population on what it's like to own an electric vehicle," added Bernardin.
"There are opportunities to solve these problems," he added, "with government leadership … and public outreach.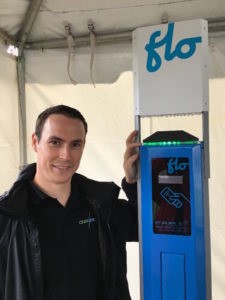 As the event wrapped, Trent MacDonald, one of the contractors with One Wind Services Inc., who installed the Flo charging stations, started charging the Leaf he arrived in, at the new Flo fast unit. Twenty minutes later, coffee in hand, he was recharged at a cost of $5.00. He drove away free of thoughts of range anxiety.