Electric Vehicle drivers love their cars. Marc Gravel is no exception.
Gravel is proud to be driving his 2016 Chevrolet Volt. He doesn't mind a four hour stop in Chester to charge his battery ("refuel") on a sunny August Nova Scotia road trip from his home in Cole Harbour to Port Mouton.
A road trip with a limited range electric vehicle requires advance planning with the aid of the plugshare.com website, to locate charger locations in advance, Gravel told me.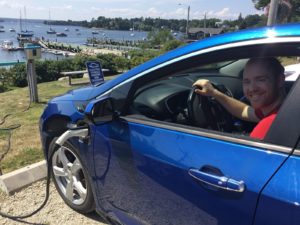 Parked overlooking Chester's Back Harbour, he'd be hard pressed to find a charging station with a better view. Someone was thinking when they made that level 2 installation. But the view didn't seem to be the big draw for him. It was the distance from his home. He happily sat in his car enjoying the internet.
A quick check on the Chevrolet website informed me that the 2016 Volt is a plug in hybrid, so Gravel must have just be trying to see if he could make the trip without gassing up.
When I checked back with Gravel he confirmed it is a plug in hybrid with about 85 kilometres electric range before the gas engine will kick in. "It's a good choice in Nova Scotia these days where the charging infrastructure is still limited," he added.
A bonus for Gravel, the charge (or "fill up") was free, courtesy of the Municipality of Chester.
While Gravel was still charging, Marc Chapdelaine pulled up beside him, also in need of a charge. There was only one outlet, currently occupied. As Gravel was on the phone, Chapdelaine asked me if I would ask Gravel to move the charging connector to his EV when he was finished. I said I didn't know Gravel, was just a curious onlooker, didn't know how long Gravel would be on the phone and had to be on my way.
Chapdelaine, Regional Directeur-Maurice for AVEQ, the Association for Electric Vehicles in Quebec, explained there was an unwritten code of practice that one EV driver would move their plug to the driver parked alongside when they were finished. He'd travelled from Quebec and added he was impressed with New Brunswick's recent roll out of high speed chargers.
Nova Scotia Power announced on August 2nd, they will be installing 12 fast (level 3) EV chargers across Nova Scotia with the goal of reducing range anxiety. They issued a public request for proposals, for partners to host these charging stations. The deadline for RFP submissions was August 16th. For Chapdelaine, used to Quebec's fleet of fast chargers, Nova Scotia's roll out can't come soon enough.