Delegates from across Canada and abroad, toured the Toronto Island above ground facilities of the world's first adiabatic, underwater compressed air storage plant on September 19, 2017.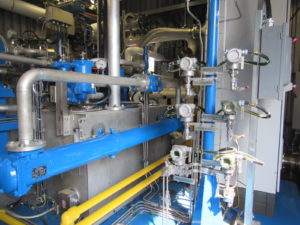 It is a demonstration project, owned and operated by Hydrostor Inc., partnered with utility host Toronto Hydro, located near their water treatment plant on Toronto Island. It has been operational for almost two years. Designed to be suitable for an urban setting, noise during the tour did not appear to be an issue.
"Storage facilities on the grid are a real game changer," said Bruce Campbell back in July 25, 2014, President and CEO of the Independent Electricity System Operator, in a press release.
"Our electricity system was built on the concept that you can't store large amounts of electricity – we produce electricity at the same time as we consume it. Energy storage projects will provide more flexibility and offer more options to manage the system efficiently."
Energy storage can provide considerable flexibility. It can help relieve localized congestion in the transmission system, as well as maximize the output from wind and solar power generators, storing energy when it is generated to be used later (eg. after dark) when it is needed.
By procuring storage, Ontario got a head start testing new technologies to help manage the changing conditions on the power system. The IESO will take what they learn from these new projects, totalling 34 megawatts (MW), to understand how to better manage day- to -day operation of the power grid using electricity storage.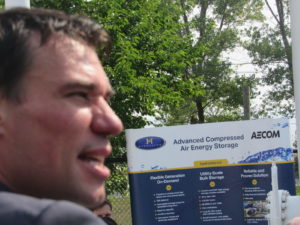 Hydrostor Inc, a leading provider of Advanced Adiabatic Compressed Air Energy Storage, deployed under lake Ontario, using it's proprietary underwater air accumulator systems some refer to in simple terms as large underwater balloons is an answer to the Independent System Operator's call.
According to NRStor, a Canadian developer of energy storage solutions, Hydrostor's technology at scale is one of the lowest cost energy storage solutions available on the market today. is emission free, and has a cycle life of over 25 years.
At least one international delegate who did not wish to be named agrees this storage solution is cost competitive.