Delegates at the EV Vehicle Conference and Exhibition 2017 event in Markham, Ontario who signed up,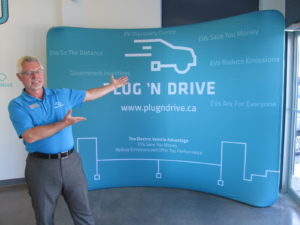 enjoyed a field excursion to the recently opened EV Discovery Centre near York University. They had a chance to view the history of EV's wall display, ask questions and take various different models, from different companies, for a test drive.
Ron Graves, Director of Education and Outreach for Plug 'N Drive is pictured at right in the EV Discovery Centre showroom at 1126 Finch Avenue West in North York, Ontario.
Jamie Thompson, pictured below, is project manager with the Applied Energy Research Centre at the Nova Scotia Waterfront Campus.
Thompson a delegate at the EV Conference, toured the new EV Discovery Centre.
The centre is a public private partnership with a $1million contribution form the Ontario Government raised through the cap-and-trade program that Ontario participates in. Other revenue comes from Discovery sponsors Ontario Power Generation, the Power Worker's Union, Toronto Hydro, TD Bank Group and Bruce Power.
Ontario's Climate Change Action Plan includes a goal to have electric vehicles make up five percent of all new vehicles sold by 2020. The centre aims to help make that happen.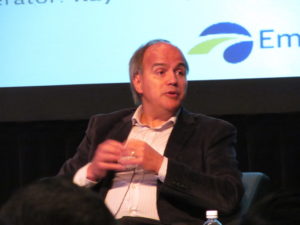 Gaetan Thomas, CEO of New Brunswick Power, pictured to the right, is a Director of Plug 'N Drive, a non profit organization staffing the Discovery Centre, who are committed to accelerating the adoption of electric vehicles to maximize their environmental and economic benefits.